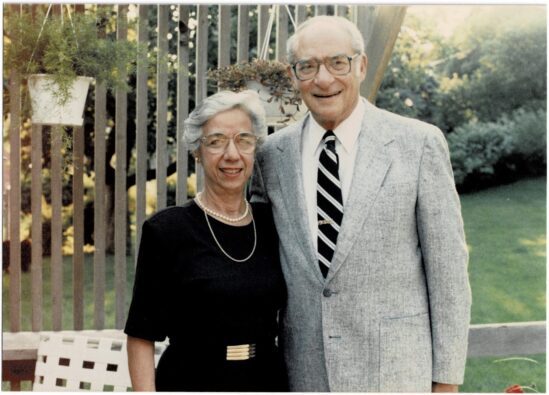 Thanks to a gift from Miriam Brooks, the Jane H. and Rabbi Sidney H. Brooks Conversations for Change series is a free-to-the-public event that will continue her parents' legacy of teaching through dialogue and building bridges between different cultures and identities. This year's fireside chat will feature actor, writer, producer, and former Associate Director of the White House office of Public Engagement, Kal Penn.
Kal's memoir, You Can't Be Serious, highlights the challenges he faced growing up as a South Asian in New Jersey, and the obstacles to succeeding in Hollywood without being typecast.
Jane H. and Rabbi Sidney H. Brooks were pillars of faith and unity; their belief in doing what is morally right led them into a life of advocacy, serving the Jewish and Omaha communities for over 50 years.
Jane H. Brooks worked effortlessly towards mental health awareness, equal housing, education, employment, and civil rights. Her leadership is reflected in the decades of board services that she dedicated to several area organizations and through the founding of the Eastern Nebraska Mental Health Association.
Sidney H. Brooks served as the rabbi of Temple Israel for thirty-three years until his retirement in 1985. His interfaith dialogues encouraged Jewish and non-Jewish people to connect and better understand each other. In addition, he used the teachings of the Torah to address contemporary social issues. Rabbi Brooks' steadfast commitment to diversity and inclusion through interfaith dialogue earned him the Humanitarian of the Year Award in 1981 from the National Coalition of Christians and Jews, Midlands Chapter, now known to many as Inclusive Communities.
About
Kal Penn
Kal Penn is an actor, writer, producer, and former Associate Director of the White House Office of Public Engagement. He is known for his starring roles in Designated Survivor, House, Mira Nair's The Namesake, the Harold & Kumar franchise, and the patriotic immigration sit-com Sunnyside which he co-created for NBC.
From 2009 to 2011, Kal took a sabbatical from acting to serve in the Obama/Biden administration, where he served as the President's Liaison to Young Americans, Asian Americans and Pacific Islanders, and the Arts community. In these roles, he worked on a range of issues, including the repeal of Don't Ask, Don't Tell, the Affordable Care Act, Pell Grants, arts and culture programs, the DREAM Act, and rapid response to the BP Oil Spill and earthquake in Haiti.
He was a national co-chair for the Obama/Biden re-election campaign in 2012 and served on the President's Committee for the Arts and Humanities, focusing on arts education and cultural diplomacy, including the first-ever US Government arts delegation to Cuba. Penn has taught courses at the University of Pennsylvania and the University of California, Los Angeles. Originally from New Jersey, he received his undergraduate degree in sociology, theater, film, and television at the University of California, Los Angeles, and received a graduate certificate in international security from Stanford University. He has been a term member at the Council on Foreign Relations.
Penn recently wrapped production on the CBS Drama, Clarice (based on Silence of the Lambs), and Freeform's late night youth election format show Kal Penn Approves This Message. He currently stars in the animated Disney Junior series Mira, Royal Detective, is an Executive Producer on the Viacom/Paramount + comedy, Surina & Mel, and can be heard in Nickelodeon's It's Pony. His culinary competition series Money Hungry airs on Food Network.
Kal's first book You Can't Be Serious was released on November 2, 2021 from Simon and Schuster/Gallery Books. He also narrates the audiobook.