HUMANITARIAN BRUNCH 2022
This year our awardees are Nancy Williams, Pamela Duncan, Maddi Intravartolo, Joyce Cooper, and Bradley Ekwerekwu.
Our Board Member Melanie Morrissey Clark and her husband Fred Clark are our Honorary Event Chairs for 2022.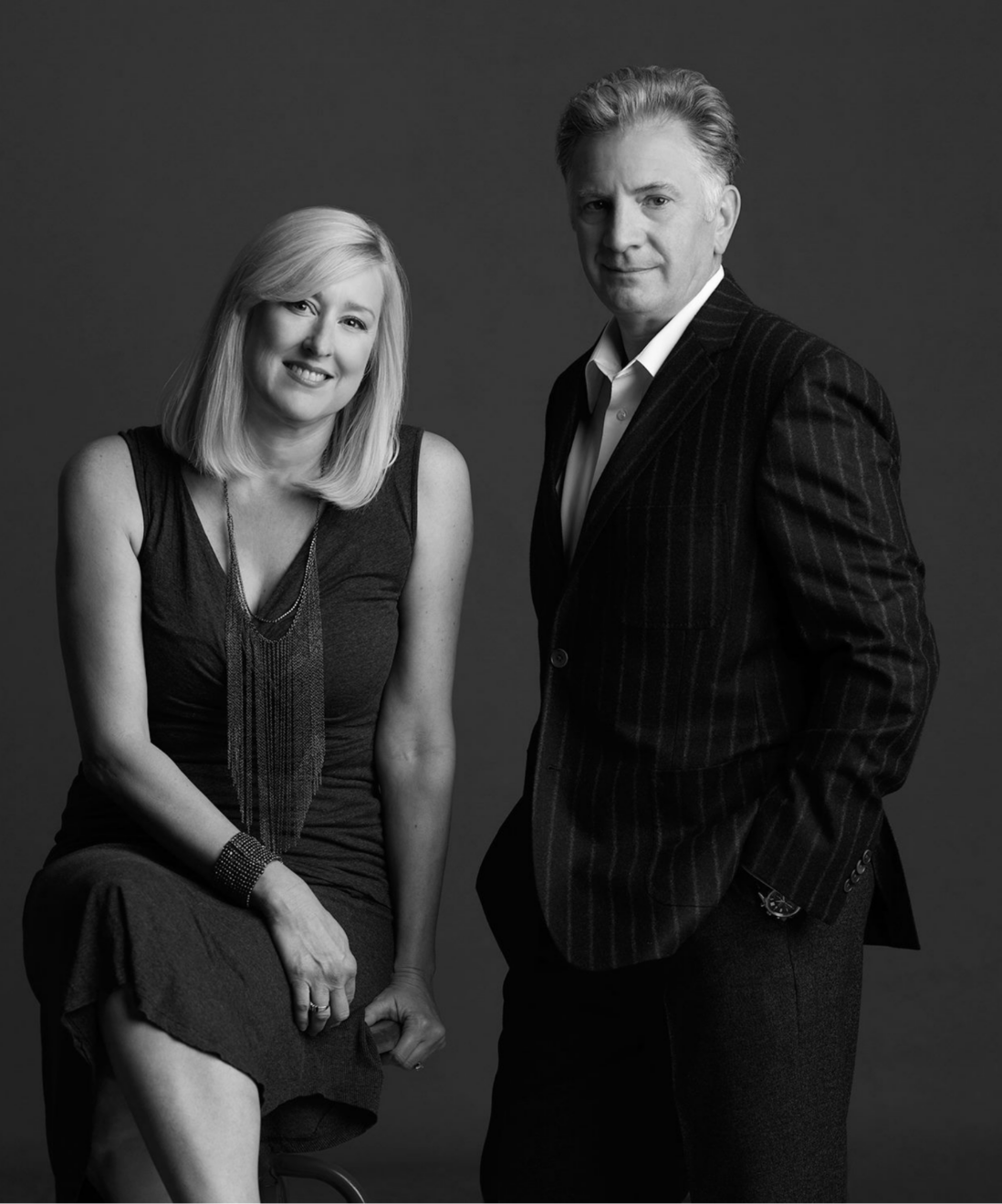 A Note from Event Chairs
Melanie Morrissey Clark and Fred Clark
Welcome to the Inclusive Communities Humanitarian Brunch 2022! We are excited to co-chair this year and thrilled that we were able to return to an in-person format on July 22 for the Humanitarian Happy Hour Brunch at the Venue at the Highlander.
We value the work that Inclusive Communities has been doing to confront prejudice, bigotry, and discrimination since 1938. Through its work, it continues to evolve and adapt to our current society and the needs of our community members. We encourage you to join this mission by supporting them with your time, donation, or gift.
This year Inclusive Communities is highlighting three truly impressive individuals with their annual awards for Humanitarian of the Year, Volunteer of the Year, and the Otto Swanson Spirit of Service Award for Partner of the Year. They are also celebrating two individuals with our new awards, the Necessary Trouble Award, which was introduced in 2021, and the Mart Sedky Corporate Leadership Award, which will be conferred annually in honor of the late Mart Sedky, who played an integral part in launching the LeadDIVERSITY program. We encourage you to learn more about these wonderful awardees who are making amazing contributions in our communities by viewing the video content below.
Join the celebration with us!
To learn more about our awardees, check out our feature in The Reader
Humanitarian of the Year
This award recognizes individuals for their outstanding service, contributions of time, effort and resources to the community and dedication to the goals, values and mission of Inclusive Communities.
1955 W.O. Swanson
1956 John Rosenblatt
1960 Gerald T. Bergan
1961 Morris E. Jacobs
1962 Milton S. Livingston
1963 Ralph Svoboda
V.J. Skutt
1964 Richard Walker
Gen. Thomas Power
1965 Dr. Abe Greenberg
1966 Leo A. Daly
1967 Peter Kiewit
1968 W.A. Strauss
Einer Juel
1969 Fr. H.W. Linn
Rev. Carl Reinert
1970 A.F. Jacobson
1971 Morris F. Miller
1972 Dr. A.B. Pittman
1973 J.D. Anderson & Eugene Leahy
1974 General John Meyer
1975 Sam Greenberg
Helen Cherniack
1976 Ben Morris
Archbishop Daniel Sheehan
1977 Milton R. Abrahams
Dr. Ronald Roskens
1978 Dale Te Kolste
William Hinckley
1979 John D. Diesing
Eugene Skinner
1980 Fr. Robert P. Hupp
James Paxson
1981 Rabbi Sidney Brooks
Dr. Claude Organ
1982 John Kenefick
Tom Osborne
1983 Charles A. Monasee
Thomas Nurnberger
1984 Robert Daugherty
Lloyd Skinner
1985 General Bennie Davis
Mike Harper
1986 Walter Scott, Jr.
Dr. D.B. "Woody" Varner
1987 Marge & Charles Durham
1988 Bernie Simon
Dr. Del Weber
1989 General John T. Chain
Rev. Michael G. Morrison, SJ
1990 Eugene A. Conley
Ike Friedman
1991 Thomas R. Burke
Robert M. Spire
1992 Thomas J. Skutt
Roy A. Smith
1993 Marian & Harold Andersen
1994 Herman Cain
1995 Carmen & John Gottschalk
Howard J. Kaslow
1996 Barbara & Bill Fitzgerald
Donald A. Yale
1997 Liz & Dave Karnes
Alan Simon, Fred Simon, &
Steve Simon
1998 Kimball & Bruce Lauritzen
Stanley Slosburg
1999 Phillip G. Schrager
Harley D. Schrager
Ann & Ken Stinson
2000 Jean & Bob Bell
Cookie & Jerry Hoberman
2001 Cindy & Mogens Bay
Nancy & Harlan Noddle
2002 Judy & Bob Bates
Debbie & Lew Trowbridge
2003 Mary & Dick Holland
Susie Buffett
2004 Judy & Jack Baker
Carol & G. Richard Russell
2005 Ann & John Nelson
Maxine & Joseph Kirschenbaum
2006 Rhonda & Howard Hawks
Gail & Michael Yanney
2007 Lin & Michael Simmonds
The Late Karen & George
Rozmarin
2008 Ivel & John Reed
Cindy & Wayne Sensor
2009 Henry A. Davis
Shirley & Dr. Michael Sorrell
2010 Mary Joy & Tal Anderson
Sharon & Dick Davis
2011 The Late Dr. Rubens Pamies
Martha & David Slosburg
2012 Susan & Michael Lebens
Dorothy & Dr. Stanley Truhlsen
2013 Stephanie & Jack Koraleski
Betiana & Todd Simon
Stacy & Bruce Simon
2014 Ramona & Deryl Hamann
Annette & Paul Smith
2016 Marian Ivers (in memoriam)
2017 Tri Faith Initiative
2018 Urban League Nebraska
Young Professionals
2019 Marta Nieves
2020 Bobby Brumfield
2021 Essential Workers
 
Volunteer of the Year
This award is presented to one of Inclusive Communities' committed volunteers who dedicate their time, energy, sweat, and passion to support our programming, advocacy, and mission.
2008 Mike Honeyman
2009 Hillary Nather-Detisch
2010 Christine French
2011 Emilio Herrera
2012 Ronald Moore
2013 Ebony Banks
2014 Kevin Custard
2016 Carrie Healy
2017 Nate Johnson
2018 Cornelius Rhone
2019 Emily Schirmbeck
2020 Haji Weliyo
2021 Alexis Sherman
 
Otto Swanson Spirit of Service Award for Partner of the Year
This award is named after Otto Swanson, one of Inclusive Communities' early founders, and honors individuals and groups whose lives or chosen field of work exemplifies the mission of Inclusive Communities.
1987 Kathleen Serverens
1988 Project Homeless
1989 Bob Armstrong
1990 Rev. James P. Scholz
1991 Shirley Goldstein
1992 Mary Dean Harvey
1993 Rabbi Aryeh Azriel
1994 Denny Holland
1995 Joe Edmonson
1996 William E. Ramsey
1997 Truman Care
1998 Frank Hayes
1999 Brenda J. Council
2000 Alcurtis Robinson
2001 Ben Gray
2002 Alberto Gonzalez
Steve Hogan
Bob Wolfson
2003 Rev. John P. Schlegel, S.J.
2004 James A. "Jim" Swoopes
2005 Cecil L. Hicks, Jr.
Omaha Community Foundation
2006 Fr. Thomas M. Fangman, Jr.
Dr. Magda Peck
Rev. L.C. Menyweather-Woods
2007 Brad Ashford
Rabbi Myer Kripke
Retired Sergeant Teresa B. Negron
2008 Carol Woods
Charles Drew Health Center
Fred Schott
2009 Empowerment Network
Institute for Holocaust Education
2010 Katherine Fletcher
2011 Evelyn "Evie" Zysman
2012 Susan & Michael Lebens
Dorothy & Dr. Stanley Truhlsen
2013 OneWorld Community Health Center
2014 Maricia Bredar
2016 Carol Joy Holling Center
2017 Gene Haynes
2018 Lakeisha Bonam
2019 Barbara Weitz Community
Engagement Center
2020 Omaha Public Power District
2021 OutNebraska
 
Humanitarian Awards Event Chairs
Humanitarian Awards Event Chairs have long been selected for their generosity to Inclusive Communities and leadership in the community. Many have been (or go on to be) honored at the same event with the Humanitarian Award. *Indicates they have already been honored.
1960 Morris E. Jacobs*
1961 E.F. Pettis
1962 Frank Fogarty
1963 Charles D. Peebler, Jr.
1964 Leo A. Daly*
1966 J.D. Anderson*
1967 V.J. Skutt*
Morris E. Jacobs*
1968 Charles Peebler, Jr.
1969 Bruce G. Schwartz
1970 Paul C. McGrath
1971 W.A. Strauss*
1972 Thomas S. Numberger*
1973 Morris F. Miller*
1974 V.J. Skutt*
1975 J.D. Anderson*
Robert Runice
1976 Leo A. Daly*
1977 John D. Diesing*
1979 Thomas H. Allen
1980 Charles. D Peepler, Jr.
1981 W.A. Strauss
1982 C.M. "Mike" Harper
1983 Richard D. McCormick
1984 Sam F. Segnar
1985 Thomas J. Skutt*
1986 John D. Woods
1987 Joseph L. Pfeister
1988 Janice D. Stoney
1989 Michael Walsh
1990 Robert D. Bates
1991 John Cochran
1992 William F. Welsh
1993 Sue & Walter Scott, Jr.*
1994 Dr. Del Weber*
1995 Kimball & Bruce Lauritzen*
1997 Anne & John Nelson*
1998 Gloria & Herman Cain*
1999 Judy & Jack Baker*
2000 John Gottschalk*
Lew Trowbridge*
2001 Mary & Mickey Landen
Diny & Jim Landen
2002 Beverly & Dr. Harold Maurer
2003 Ivel & John Reed*
2004 Susan Jaques & Gene Dunn
2005 Connie & Rick Spellman
2006 Sharon & Dick Davis*
2007 Betiana & Todd Simon*
2008 Ann & Ken Stinson*
2009 Carol & Rick Russell*
2010 Susan &Michael Lebens*
2011 Annette & Paul Smith*
2012 Ann & B rad Ashford
2013 Emily & Craig Moody
Laura & Michael Alley
2014 Andrew Rouillard & Brent Thomsen
2016 Mike Fahey
2017 Andy Holland
2018 Jane D. & Thompson H. Rogers
2019 Mart & Sherif Sedky
2020 Rieko Ikeda-Hayes and Alex Hayes
2021 Tulani Grundy and
Othello Meadows
 
Thank you to our event and operational sponsors