Dear Friends,
Growth is both beautiful and challenging. Over this past year, we have seen this internally as our staff numbers have shifted with many going on new adventures in new states and with their educational pursuits. With a full team of newly dedicated staff, we have remained committed to our culture map to ensure stability within the organization and beyond.
As our team has changed, so has the growth of our external practices. We have expanded our reach across the state, building partnerships in Norfolk with the Norfolk Diversity Council, Grand Island with Central Nebraska Big Brothers Big Sisters, Columbus with Centro Hispano, Scottsbluff through the Panhandle Partnership, and North Platte with various mentoring networks.
Our programming department saw one of its best years, servicing 10,672 community members across 77 organizations, and over 350 workshops and trainings. As the demand for diversity, equity, and inclusion training continues to grow, we have placed emphasis on ensuring that we have the internal capacity to meet those needs. This has included restructuring our Faculty training program to invite more honest conversations around the expectations of our work, which in turn helps to create a more sustainable work practice and environment.
We are thankful for the continued support from our Board, Staff, Donors, Volunteers, Faculty, and Community Partners. Their commitment to our efforts for a more equitable society in Nebraska and beyond, motivate us to continue this work and always strive to put our best foot forward.

It's been two years since we've hosted an in-person Humanitarian Brunch. This year, it looked a little different, as we shifted to a happy hour gathering. During the awards ceremony, we celebrated Nancy Williams as the Humanitarian of the Year, Pamela Duncan as the Otto Swanson Partner of the Year, Bradley Ekwerekwu as the Volunteer of the Year, and Maddi Intravartolo, the youngest award recipient in our organization's 84-year history for the Necessary Trouble Award. In addition, we introduced a new award, the Mart Sedky Leadership Award, in honor of the late Mart Sedky, who was instrumental in launching our LeadDIVERSITY program, along with Joyce Cooper, who was our inaugural award honoree.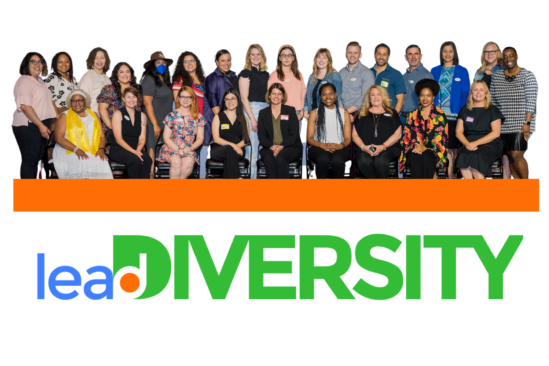 As we returned to in person events, we held our first non-virtual LeadDIVERSITY graduation at the Benson Theater, celebrating 29 Advocates from cohort three. We invited cohorts one and two to join the celebration, bringing together close to 90 professionals committed to diversity, equity, and inclusion work.
In 2021, Inclusive Communities became the Operating Coordinator for the NFJC, a coalition of 16 likeminded organizations around the nation, working to advance the practice of inclusion and justice in every community across the country and beyond.